This is an archived article and the information in the article may be outdated. Please look at the time stamp on the story to see when it was last updated.
Good Morning…
When I walked in this morning and didn't see Trisha's car already in the parking lot I figured the blob of sickness running around her house had finally caught up to her. I was right.
So we had the All testosterone show this morning with Brad Ehrlich(still sick but so bored at home he decided to come back to work…thanks Brad), and Justin
Sacher
filling in for
Jeriann
. We'll have the whole team back Monday, we hope.
To the news where President Bush is making his way through South America. Of interest to Iowans will be the pact he signs with
Brazil
this morning to bring more imported Ethanol our way. As US farmers ramp up production of ethanol,
apparently
Brazil is way ahead of us. And before anyone goes off about how this is hurting
American
farmers…the ethanol from Brazil is charges like 52 cents a gallon in taxes when it comes into our country. That tax on an import is designed to give our farmers a competitive edge. We still can't make enough of the
bio fuel
to go around right now so…for now we're going to use some of Brazil's.
We got a look at the options for an Events Center Hotel and there are three very different proposals in front of the county. the Biggest is an S shaped 500 room hotel that would change Des
Moines
' skyline. It would be cool to have another building like that downtown but I have such a hard time
believing
we need all that space. Now that said, If we had the bigger hotel there, The City might be able to attract bigger convention business and maybe fill the thing up 20 or thirty weekends a year…that's ambitious. And as I say that with the
scepticism
beating back any thought this could work…I am struck by the idea that…this is what people were saying about the events center. They said it was too big…it wouldn't work…it would sit empty. In the first couple of years…the place has done better than expected. If you never think big, you're never going to have really big results. That's the point. It's just how far out on a limb is a developer willing to go?
I was talking to my Uncle Jim the other day about the plans for the events center and as a frequent traveler/conventioneer, he said he'd just as
soon
go to
Des
monies
as go to a place like Anaheim. You have to remember that the benefits of being in California are hardly ever realized by a lot of these conventioneers. They go to the convention, maybe go to dinner and go back to
their
hotel room. They can do that in Des
Moines
and they can do it for less money. At least that's what he said.
I was surprised but happy to see Iowa State's women's team won in Oklahoma City at the Big XII Tournament. Watch out for the Clones if they go through the tournament and win…they could be dangerous in the
NCAA's
as well.
Finally I had the good fortune of being asked to be a part of WHO-
TV's
first Bowling Bash Thursday. It was an event for the station's business clients, and we had a blast. More to the point, Today in Iowa contributed to the winning team. Here they are. Scott Jarvis and Josh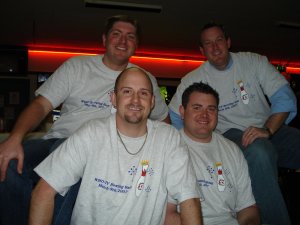 Norton are from Horizon bank and both were a blast. Our Sales rep Jerry Hoehle probably has a sore back from carrying us all afternoon. He rolled a 222! I was more a role (no
pun
intended) contributor throwing is a score in the 150's in the first and a score in the 170's for the second game. We had a good time, an for the record, I made it to my 4:30 training session where my
trainer
made me pay for the sins of pizza and adult beverages I'd had for lunch.
Hope to see you all out at
Kidsfest
. Trish is going to try to make it…hoping she and her family feel better. Brad…well we hope he's feeling better before he comes out…and I will be there rain or shine. Come out for some fun at the Fairgrounds. The
AM
crew will be there in the afternoon Saturday.
Hope everyone has a good weekend, and good luck to all the Girl's State Basketball teams still in the hunt.