This is an archived article and the information in the article may be outdated. Please look at the time stamp on the story to see when it was last updated.
We spent the weekend (well, MY weekend, that is) in Chicago. No doubt that town has Obamamania. It's non-stop on the local news and in the papers. I couldn't tell you how many people I passed on the streets with Obama buttons or hats. The place is going crazy. But that's not the highlight of the trip. Check this out… Do you recognize him?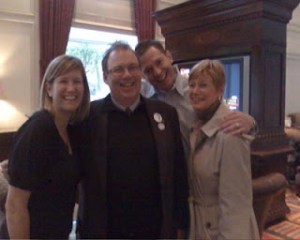 (Emily, Oprah Dude, me, My Mother-in-Law Bonnie)
It's the Oprah Dude. Sam Perry is his name, I believe. He's the California guy who volunteered for Obama and then during Obama's victory speech, he found himself as Oprah's leaning post. We ran into him at the Hilton Hotel where Obama held his first news conference after the election. Oprah Dude (He's "Mr. Man" to Oprah) was sitting at the hotel bar with a woman. She apparently wasn't his wife…we made that mistake.
In case you care about his fifteen minutes of fame… He said he was standing in the crowd and a bunch of people let Oprah move her way up to the front to hear Obama's speech Tuesday night. Oprah Dude said he offered to let her move ahead of him, but she declined. Instead, she started crying and leaned on him. Then, he got to be on her show the next day. It's a rough life to be Oprah Dude.