This is an archived article and the information in the article may be outdated. Please look at the time stamp on the story to see when it was last updated.
I hope we can get a group of media types together to see "Anchorman 2" when it hits theaters in December.  When "Anchorman: The Legend of Ron Burgundy" came out in 2004 a gaggle of us from all three TV stations descended on a local theater after the late news.  Eric Hansen, if you're reading – didn't you help set that up?  We need to get the ball rolling!
I couldn't resist writing a bit about these movies after emails we received yesterday. It cracked me up that the writer referred to Dan and I as "eye candy" in one note and that he included this in another:  "Please get some actual news anchors on the show instead of these pretty boy/girl fashion models who only know how to smile and look pretty on camera."

The thing that doesn't crack me up? What a misogynist this guy is. Sadly, he probably doesn't even realize it. I pity the women in his life.
Then again, I feel sorry for anyone I encounter who has a rotten attitude and treats others poorly. What a miserable existence!  As my Grandma Susan used to say, "It's nice to be nice to the nice!"  I'll keep smiling – you can keep wallowing around in your nastiness.
This was my horoscope today …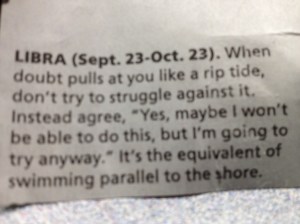 It was perfect considering the brutal weight lifting program Sonya and I started today. At least I will be able to say, "I tried".
Finally – if you missed this week's "WOW" click this link.  If you have joint issues you should try this.  Plus, the name "Cardio Tramp" is pretty funny.