This is an archived article and the information in the article may be outdated. Please look at the time stamp on the story to see when it was last updated.
Photos in the report courtesy of Roger Lugo, Iowa Falls Times Citizen
Rescue workers were doubtful they would be pulling a man out alive after hearing how he was trapped.
23-year-old Arick Baker and his father were working on a farm just south of Iowa Falls.
They had been working for days to empty an 80,000 bushel bin full of moldy corn.
Baker stood inside the bin using a pipe to break up the rotten corn, when a large air pocket collapsed under him in the incident last week.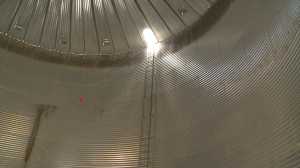 "I was scared it was a really strange feeling, I`ve never been in quick sand but I would imagine it would be the same thing it just feels like corn is crawling up your leg and just sucking you in," says Baker.
Baker said after he realized what had happened, he felt a strange calm.
"As weird as it sounds the next ten minutes or so I just okayed it with myself that I was going to die, people don`t come out of grain bins," says Baker.
Baker said he then started to make a list of the things in life he would miss.
"That list became the reason I decided to try and live, I decided it`s worth fighting for," says Baker.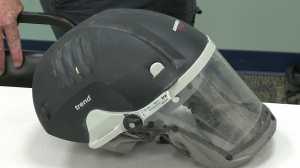 Baker suffered from asthma as a child, so when working around the dusty corn he wears a battery-powered ventilation system, a system that proved invaluable.
"That`s how I was able to survive that`s the only reason I'm alive actually," says Baker.
After an hour, Baker felt a tug on the rope tied around his arm, but the rope pulled loose, leaving him trapped below.  Soon, rescue crews arrived on the scene.
"The reason I heard them was one of their radios came back and someone was talking through their radios and they said, if that kids in here he must be dead because I don`t hear him or see him.  When I heard that I just started screaming as loud as I could," says Baker.
"All of a sudden they said he`s talking to us and just like that it goes from a recovery mode to a rescue mode," says Assistant Fire Chief Denny Barrick with the Iowa Falls Fire Department.
The rescue worker soon uncovered Baker's hand and crews started a plan to relieve the nearly 900 pounds of pressure pushing on his body.
"We cut relief holes in the grain bin on all four sides started pulling the grain out we had eight to ten men on every hole scooping grain," says Iowa Fall Fire Chief Rick Gustin.
Nearly five hours later, Baker was freed.
"When that happened they pulled my feet out and there was a guy with me the whole time and he pulled me out.  When that happened I collapsed, I started uncontrollable bawling in his arms I mean sobbing," says Baker.
Baker was immediately taken by life-flight to a Waterloo hospital. Baker was able to walk away just 48 hours later with few injuries but plenty of perspective.
"I always tried to live day by day to the fullest and what not but it defiantly gives a whole new meaning to just living," says Baker.
In the rescue, the Iowa Falls Fire Department used a special grain-bin-rescue device purchased just three months ago.
Chief Gustin said in his 25 years with the department he has never had a successful grain bin rescue until now.