This is an archived article and the information in the article may be outdated. Please look at the time stamp on the story to see when it was last updated.
The community has come together at a candlelight vigil to remember Kathlynn and to support her family, as well as each other.
Over the past few weeks since Kathlynn Shepard disappeared, folks in Dayton have searched together, cried together and prayed together. On Saturday night they came together once again to hold a candle light vigil in honor of Kathlynn.
It was the first step towards a process of healing for the community. It was held at the town's elementary school 24 hours after Kathlynn's body was found in the Des Moines River.
The audience was there to mourn but also to remember the good times with Kathlynn.
"She was a beautiful soul. She was very happy and very trusting."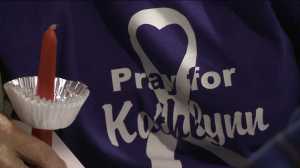 Kathlynn's classmates also offered memories of their friend recounting stories of singing and recounting her good character, "I never saw her without a smile on her face," one friend said.
The community in Dayton say they want to keep Kathlynn's memory alive. On Monday, the town will hold a tree of hope lighting ceremony at 8:30 Monday evening. It will be purple in her honor.