This is an archived article and the information in the article may be outdated. Please look at the time stamp on the story to see when it was last updated.
DALLAS COUNTY, Iowa - Four people were killed early Saturday, including two Des Moines police officers, following a fiery crash along Interstate 80 near Waukee. The crash happened shortly after 12:30 a.m. near mile marker 117.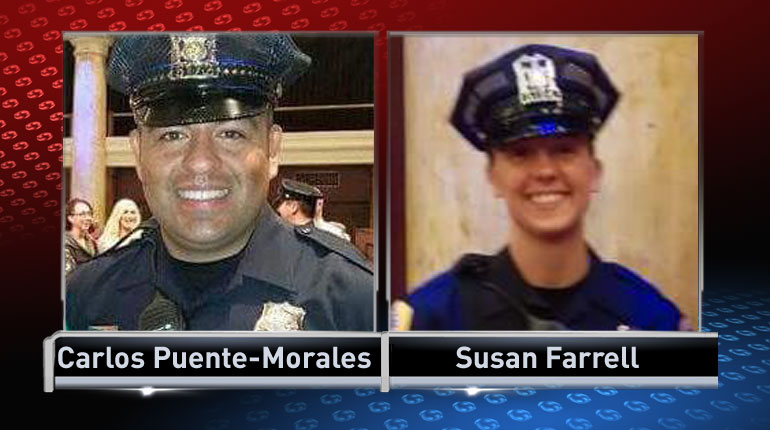 Officers Susan Farrell, 30, and Carlos Puente-Morales, 34, were in an eastbound SUV transporting a prisoner from Council Bluffs to Des Moines when the crash happened. The Iowa State Patrol said another vehicle driving the wrong way on the interstate struck the SUV head-on then burst into flames.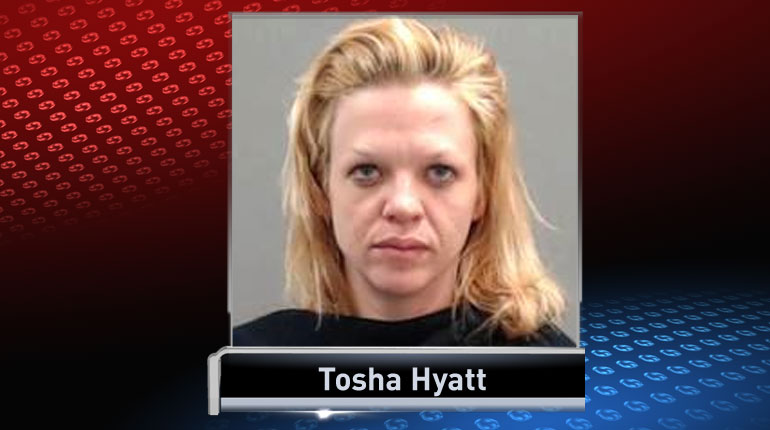 The prisoner being transported has been identified as Tosha Hyatt, 32, of Des Moines. Hyatt was a mother of four children. The name of the driver of the second vehicle is not being released at this time.
During a Saturday morning press conference, Des Moines Police spokesperson Sergeant Paul Parizek said the crash scene was "the worst I've ever seen."
"This is a very sad day for the Des Moines Police Department. Words cannot describe the loss to our organization," Des Moines Police Chief Dana Wingert told the media. "We face a nightmare that no one ever wants to experience."
"Please keep the Des Moines Police Department and the families of the victims in your thoughts and prayers in the coming days. We will rally together as a family to get through this," Chief Wingert added.
Remembering the Officers
Parizek said the two officers had graduated from the Des Moines Police Academy in October of 2015 and were well-respected in the department.
"Respect in this organization isn't just handed out, you have to earn it. And both Carlos and Susan earned more than their fair share, starting out in the academy, then coming back out onto the street. And then performing at the level they did," Parizek said of the two officers.
Farrell worked for the Polk County Sheriff's Office for several years before joining the Des Moines Police Department.
"Her personality, it just - I don't have enough words to tell you how good of an individual she was, and how respected she was here at the jail," said Sergeant Brandon Bracelin with the Polk County Sheriff's Office. "And just walking around here today, you can tell how much she's already missed."
"You know, Susan was very well-respected, and she was just a person you could count on. When there was a serious situation, she was one of the first ones there. I worked side by side with Susan in the jail when we first moved out here in 2008 -- on the response team -- and there wasn't a situation where I wouldn't want Susan with me. She was that kind of person, and she will be missed," Bracelin said.
A GoFundMe page has been set up for Farrell.
Puente-Morales served as a police officer in Ottumwa for more than three years before joining the Des Moines Police Department in 2015. He received an Associate Degree from Ellsworth Community College and graduated from the 225th Basic Academy at the Iowa Law Enforcement Academy on December 12, 2008. Puente-Morales is a member of the Iowa National Guard and served in both Iraq and Afghanistan. He was a former Deputy with the Franklin County Sheriff's Department. In order to be closer to his family, Officer Puente-Morales left the Ottumwa Police Department on April 26, 2015 joining the Des Moines Police Department.
"Officer Puente-Morales was a dedicated professional who was always willing to lend and a hand to those in need. He will be missed by his fellow officers and employees of the Ottumwa Police Department," Ottumwa Police Chief Tom McAndrew told Channel 13 News. "Our sympathy goes out to Carlos's family and friends."
Governor Terry Branstad and Lieutenant Governor Kim Reynolds released the following statement:
"Our hearts are heavy this Easter weekend on the news of an early morning crash on Interstate 80," said Branstad. "We're learning that the crash took the lives of two young Des Moines police officers who dedicated their lives to protecting public safety and were killed in the line of duty. Chris and I wish to extend our sincere sympathies to the families of everyone impacted by this horrific accident."
Lt. Gov. Reynolds added, "I'm heartbroken to hear this morning of a tragic vehicle crash involving two fallen police officers from the Des Moines Police Department. On this celebration of Easter, it's very difficult to comprehend how young lives can be taken so quickly. Kevin and I wish to extend our thoughts and prayers to all of the families affected by this terrible crash."
Gov. Branstad will issue a statement later in the week on lowering flags to half-staff.
Puente-Morales and Farrell are the third and fourth Des Moines police officers to die in the line of duty in the last decade. In February 2008, police officer Roger Hildreth suffered a fatal heart attack while he was running at the police department's gym. Nearly one year earlier to the day, officer Sean Wissink was killed when he crashed his patrol car while traveling to a training exercise in 2007. Before Wissink's death, no Des Moines police officer had been killed in the line of duty in 30 years.
The department is still planning a community vigil for the officers. We will bring you that information once it's made available.
Check back for updates.
Flowers being left on a patrol vehicle to honor two Des Moines Police Officers killed in a crash on Saturday, March 26, 2016. (WHO-HD)

A cloth covers the entrance to the Des Moines Police Department on Saturday, March 26, 2016, following the loss of two officers in the line of duty. (WHO-HD)

A cloth covers the entrance to the Des Moines Police Department on Saturday, March 26, 2016, following the loss of two officers in the line of duty. (WHO-HD)

The flag has been lowered to half-staff outside the Des Moines Police Department on Saturday, March 26, 2016, following the loss of two officers in the line of duty. (WHO-HD)

The scene of a fatal crash that killed four people, including two Des Moines Police Officers, on Saturday, March 26, 2016. (WHO-HD)