This is an archived article and the information in the article may be outdated. Please look at the time stamp on the story to see when it was last updated.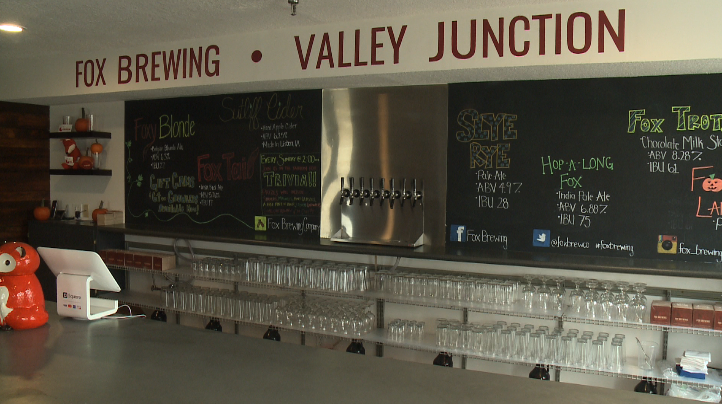 WEST DES MOINES, Iowa – It's technically been open for six weeks now, but Fox Brewing – Valley Junction's newest brewery – is celebrating its official opening with a ribbon-cutting ceremony Thursday afternoon. And the owner says business has been booming.
"Our tap room has been full since we opened," said Brian Fox, founder and owner.
Fox got started years ago brewing beers in his parents' basement. Then he says he decided the hobby was more fun when the beers actually tasted good, so he read several books, and listened to around a thousand hours in podcasts on the subject. After getting a few years' experience at Court Avenue Brewing Company in Des Moines, Fox was ready to open up shop in Valley Junction.
Offering six craft beers, including Foxy Blonde (a Belgian Blonde Ale), Fox Tail (an Irish Red Ale), Hop-a-Long Fox (India Pale Ale), and Fox Trots (a Chocolate Milk Stout, Slye Rye (a Rye Pale Ale), and Fox-o-Lantern (a Pumpkin Ale for the season), the brewery at 103 S. 11th Street in West Des Moines is getting attention.
"We stay open late on Sunday nights and air 'The Walking Dead,' which brings in people who order beer," Fox said.
In a growing craft beer scene, Fox says opening up in the Des Moines area is helping increase its national notoriety.
"When people talk about great beer cities, they talk about Asheville, North Carolina, they think about Denver, they think about Portland, and that sort of thing," he said. "But right now, Des Moines is one of the up and comers, and we've gotten a lot of recognition, because we do have some really great breweries around the Metro. And it's not just that we have great breweries making great beer, we've got quite a few new ones that are popping up."