This is an archived article and the information in the article may be outdated. Please look at the time stamp on the story to see when it was last updated.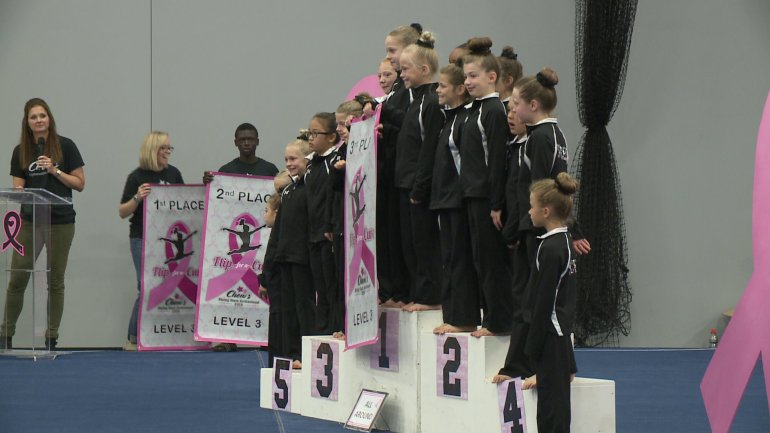 October first marks breast cancer awareness month, and Chow's Gymnastics wasted no time in getting the donations flowing in.
Over 200 gymnasts descended on the Ohana Sports Complex in Grimes to compete.
"One in eight women will get breast cancer in their lifetime, so it's really important that we try to raise awareness for them," said meet coordinator Christine Svec.
The two-day event has raised over $1,300  for the Susan G. Koeman foundation, and they are still raising more.
Over 40,000 women are expected to die of breast cancer in 2016.  Chow's Gymnastics says they want to get that number down to zero.
"We really are striving to have the girls choose healthy lifestyles, so in essence, hopefully preventing cancer," said Svec,
The event strikes a chord for Brandi Jessen, a mother of a gymnast and who's best friend Nicole was diagnosed with breast cancer immediately after giving birth.
"She was going to have a C-section so they said 'we'll just biopsy it during the C-section' and she found out that day that it was cancer. So she had a baby on the same day that she found out she had breast cancer," said Jessen.
Nicole was only 26 when she was diagnosed.
"It used to just be older generation of women and know it's much younger, 20s, 30s we go to the breast cancer walk every year and you see younger and younger women with survivor shirts on," said Jessen.
The gymnasts at Saturday's event were young, but even at 9-year-old Greta Goodman had an understanding of why they were there.
"It's pretty important cause you don't know if they`re going to survive or not, so it's kinda sad," Goodman said.
"I think that it's great that for this younger generation to have that awareness and hopefully in their lifetime we can find that cure," said Jessen.
The event concludes on Sunday.