This is an archived article and the information in the article may be outdated. Please look at the time stamp on the story to see when it was last updated.
A former Cyclone football star was found dead in his east Texas home, Wednesday. Police in Jefferson, Texas believe it was murder.
KTBS reports that 28-year-old Jason Berryman's body has been sent to Dallas for an autopsy.
Berryman had a short but very troubled career at Iowa State.  His former coach and teammates called Berryman, "one of the most gifted players they've ever seen."
There were two sides to Berryman. There was the Berryman who burst on the scene at Iowa State with 117 tackles as a true freshman.
"A guy who could run down a receiver or a running back from behind that played the d-line position, the d-end," said Todd Blythe, who played with Berryman from 2003-2005.
That one was a legend on the practice field.
"He'd outrun the defensive linemen," his former coach, Dan McCarney said. "I'd put him with the linebackers, he'd outrun the linebackers. I'd put him with the DB's, he'd outrun the safeties.  He was running with corners he was running with receivers…"But there was also the Berryman who spent 258 days in the Story County jail for theft and assault.
"He said `man, I messed up, but when I get my chance, I'll show people I've changed," Curvey remembered.
His skills too great to ignore, and Iowa State coach, Dan McCarney gave him a second chance.  He recorded 5 ½ sacks in the 2005 Houston Bowl, his last game as a Cyclone.
"Every other play he was making a play," recalled teammate, Bret Meyer, "It was a hurry, it was a sack, it was running someone down from behind…"
But when Berryman violated his probation a month later, he was finished at Iowa State.  He got looks from the NFL and a job with the Iowa Barnstormers. But again, his road of redemption hit a dead end.
"He`s very emotional, so he gets attached to things emotionally and I think that`s what made him make some of the decisions that he made," Curvey shrugged.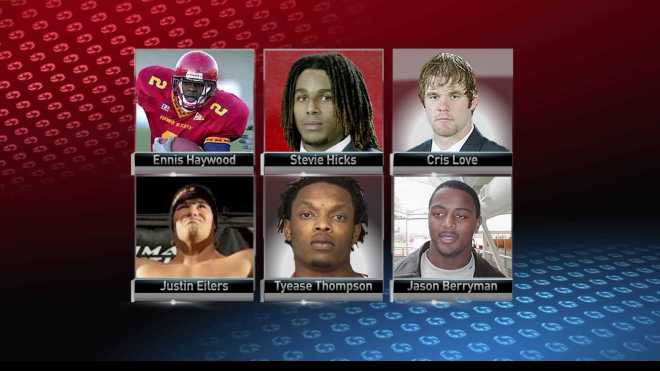 Since 2003, six former Cyclone football players have died.  McCarney says each call steals the breath from his lungs.
"There's this order in life and it's not supposed to work that way," he said, "but it's just terrible news; I hate to hear it."
Berryman had his skills and his demons, but his former teammates insist there was one more side to him.
"I`ve been asked multiple times," Blythe said, "in my time playing at Iowa State and in the time after, `man, was Berryman a thug? Was he just a bad kid? Did anyone want to be around him or want him back on the team?` He was the furthest thing from it."
"I mean it's tough," Curvey said, "he was like a brother, you know."
Although he left Iowa shortly after being cut by the Iowa Barnstormers in 2008, Jason Berryman soon returned.  In fact, he worked in concessions at Wells Fargo Arena until sometime last year when he moved back to Texas.
He was named Iowa State's MVP and Big 12 defensive freshman of the year in 2003.
KTBS reports his body was discovered Wednesday by friends and family.