This is an archived article and the information in the article may be outdated. Please look at the time stamp on the story to see when it was last updated.
FORT DODGE, Iowa – The murder trial of a Webster County woman that was set to begin Tuesday is being delayed and moved out of the county.
Tuesday morning, the judge in Mackenzie Knigge's murder trial approved a change of venue after determining Knigge could not get a fair trial in Webster County. The judge made the decision after questionnaires filled out by potential jurors revealed many of them had already formed an opinion about the case.
Jury selection in the trial had been scheduled to begin Tuesday morning.
The judge now says the trial will be held in Story County on June 10th, 2019.
Knigge is charged with first degree murder in the death of 26-year-old Jessica Gomez. Gomez' burned body was found in a field near Clare on August 12th of 2017.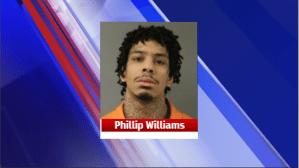 Investigators say Knigge and Phillip Williams murdered Gomez at Knigge's apartment in Clare in the early morning hours of August 5th. The two purchased latex gloves, bleach, plastic sheeting, and facemasks from the Walmart in Fort Dodge following the murder, to be used to cover up the crime.
Investigators say Knigge and Gomez were friends, and both were having a relationship with Williams.
Williams' trial is scheduled for March 4th, 2019 in Cerro Gordo County.