This is an archived article and the information in the article may be outdated. Please look at the time stamp on the story to see when it was last updated.
Investigators say they've made a "significant" discovery in the search for an abducted 15-year-old girl.
Information was released Wednesday about the discovery of items belonging to Kathlynn Shepard being found southeast of Dayton, where she and a 12-year-old friend were kidnapped from Monday.
The Iowa Department of Public Safety says the discovery of the girls' back packs in the 400 block of Kale Avenue in Boone County is important because it shows the alleged abductor, 41-year-old Michael Klunder, was in the area and Kathlynn may have been with him at the time.
View a map of where the backpacks were found
Shephard and a 12-year-old friend were abducted at a bus stop in Dayton Monday afternoon. The 12-year-old was able to get away, but Shepard has not been found.
Law enforcement and volunteers searched until around 7:00 p.m. Tuesday night before calling off the search for the day. The search was focused on several areas, including the location where the girls were abducted, a home in Pilot Mound where the 12-year-old escaped, a home in Dayton where the suspect Michael Klunder was found dead Monday night, and Klunder's home in Stratford.
While law enforcement officials hope to get information from the 12-year-old girl, their main goal is finding Kathlynn.
"The plan is to find her alive.  That is our hope. We are working very hard to find her we're still searching many areas. That's our plan at this point to find her alive. But as time goes on of course, that's not usually a good thing," says Agent Bill Keitzman with the Iowa Division of Criminal Investigation.
Tuesday more than 120 officers and 200 first responders as well as dozens of volunteers searched for Shepard. They checked farm fields north of town, as well as the wooded area south of Dayton.
Officers say they have very large area to search but one of their main focuses is the Des Moines River. Tuesday searchers were on the river, checking the banks, and the water looking for any sign of Shepard.
People in Dayton say they want to do anything they can to help find the girl.
"The community response has been overwhelming.  Tn these parts of the state, everyone knows everyone.  So everyone has stepped up to help," says Dayton mayor Richard Travis.
The effort to find Shepard isn't contained to just Webster County, there's even a billboard along Douglas and MLK in Des Moines. It asks for anyone with information on her whereabouts and disappearance to contact police.
Officials are also asking anyone who may have come in contact with Klunder between 3:00 p.m. and 8:00 p.m. Monday to call police. At this time police say they do not need additional volunteers, however, they may be needed in the future.
Anyone who would like to help can call Webster County Emergency Management at 515-571-6483. They are asked to leave a message for search coordinators with their name, phone number and any resources they can provide to the search.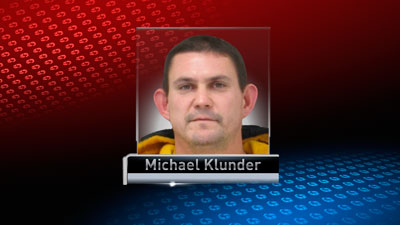 The kidnapping suspect, Michael Klunder, has a history of charges. In 1992, Klunder was convicted of two kidnappings and assaults. In the first instance he kidnapped a 21-year-old woman. The next day, he abducted two three-year old girls in Charles City.
He was sentenced to 41 years in prison but was released in 2010. He is a registered sex offender. Because of Klunder's history, police in Evansdale say they will investigate whether there is a connection between Klunder and the kidnappings of two cousins. Lyric Cook and Elizabeth Collins were abducted last July. Their bodies were found in December.
Evansdale's police chief tells the Waterloo-Cedar Falls Courier that he will look into Klunder's whereabouts at the time of their disappearances.