This is an archived article and the information in the article may be outdated. Please look at the time stamp on the story to see when it was last updated.
For the past four days, hundreds of law enforcement agents and volunteers have scoured parts of Webster and Boone counties looking for any sign of missing 15-year-old, Kathlynn Shepard.
However, the terrain is making the search difficult.
"It's been four days of exhaustive searching.  We've had 150 officers, first responders every single day, 100 to 200 civilian volunteers every single day," explained DCI special agent, Bill Kietzman.
"We have just thoroughly covered the areas that we think are really, really important.  Areas that we think are important we've covered three or four times."
The terrain is rough.  The area being searched is a very hilly with steep ravines, thick woods, and deep water.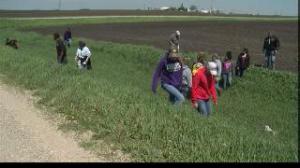 "The grass is waist high in places.  There's ditches that drop off where you can't see the bottom.  Those have to be searched.  And there's timber you can't walk through.  And there's thorn bushes and it's, it's just not safe," added Kietzman.
With high grass, it's very difficult for volunteers to find small clues like clothing, for example.
"That's why on some of our searches we try to go fingertip to fingertip so that you're very close so it; ups the odds that you won't miss something but we are humans and there are times that you miss something," said Webster County sheriff, James Stubbs.
Thursday, authorities revealed that DNA tests showed pools of blood found at the hog confinement where the girls were taken belonged to Kathlynn Shepard.  They admit it looks bleak but they aren't giving up yet.
"I know that time's against us.  I know with reports of the blood and the injuries that's not good news.  The family's aware of that. They're aware that we're cutting back on the search a little bit," said Kietzman. "But we're not giving up."
Authorities say they don't need volunteers to help look, anymore. Trained law enforcement agents will be the only ones searching Saturday.
However, if people happen to be in the area and notice something out of the ordinary, police ask that they please contact them.