This is an archived article and the information in the article may be outdated. Please look at the time stamp on the story to see when it was last updated.
The metro community, fellow officers and friends of the two officers killed in ambush-style attacks Wednesday morning are honoring them by building memorials and sharing fond memories in the midst of heartbreak.
Sgt. Anthony "Tony" Beminio of the Des Moines Police Department and Officer Justin Martin of the Urbandale Police Department were killed in the shootings. The suspect in the case, Scott Michael Greene, 46, of Urbandale, was taken into custody in Dallas County around 9:15 a.m. Wednesday.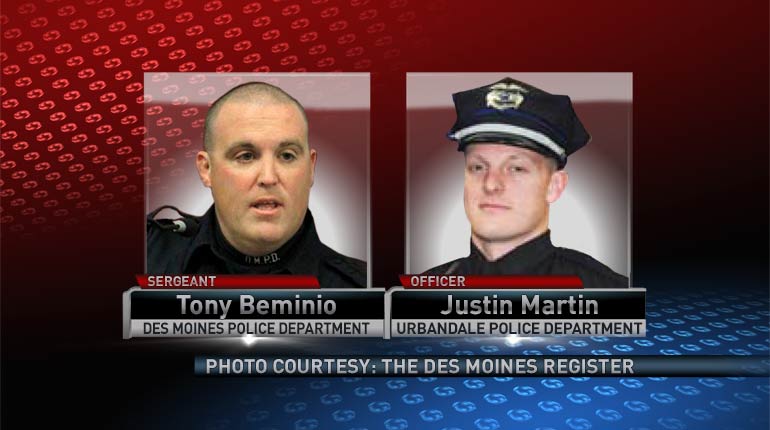 Urbandale Officer Justin Martin
Officer Martin is the first officer killed in the line-of-duty in the history of Urbandale.
A memorial to Officer Martin is growing outside the Urbandale Police Department as hundreds of flowers, cards, and other crafts meant to remember him keep piling up on an Urbandale police squad car.
"He was just really quiet, but you could tell he was really passionate about doing what he did, and being an officer, and everything," said Urbandale Police Officer Andrew Clark. "And so, I just got some pointers from him, things that could make me successful. He was just really nice. I don't think anyone could say anything bad about him. He was just a genuine guy, a man of few words, and just a wonderful guy."
People from all walks of life are going to the memorial to pay their respects, including two girls who were classmates and co-workers with Officer Martin when he was still a student last year at Simpson College.
Taylor Scott and Meara Moore are just two people out of a large and diverse crowd that's trickled into the memorial area throughout the day. From parents with small children who made their own cards, groups of high school students just wanting to pay respects and even those who recognize these officers not from the streets, but from their personal lives.
Many people are referencing just how long they've known some of these Urbandale police officers, and it really shows how tight-knit this community is.
"It doesn't feel real at all to think that there is someone that you know that's gone now, especially such an amazing person like he was and it's really hard and shocking," said Scott.
Des Moines Police Sgt. Anthony "Tony" Beminio
Sgt. Beminio is third Des Moines officer killed in the line of duty this year, and department leaders say he was a great cop and a great man.
The memorial outside of the Des Moines Police Department for Sgt. Beminio is similar to Officer Martin's in Urbandale as it continues to grow with flowers, cards and balloons piled on top of Des Moines police squad car.
Sgt. Beminio was a familiar face around the Des Moines Police Department and was promoted to that rank after more than a decade with the department.
During his tenure, he served as an SRO at Roosevelt High School, where one teacher said he was "adored" by many students and staff. The principal at the school struggled to put the loss of Beminio into words, and so did his fellow officers earlier Wednesday.
"It`s just heartbreaking for all involved when someone so genuine and wonderful, that gave his life to kids and the community, is tragically ended like that," said Kevin Biggs, Principal at Roosevelt High School. "We aren`t trained to handle those things very well. We`re full of emotion right now."
Des Moines isn't the only department mourning Sgt. Beminio, either. Before coming to the Des Moines Police Department, he took the oath to serve and protect in Indianola.
"Tony was everybody`s friend, I don`t think anyone disliked Tony, whether you were the least senior person or the chief he was your friend," said Indianola Police Sgt. Scott Dwyer.