This is an archived article and the information in the article may be outdated. Please look at the time stamp on the story to see when it was last updated.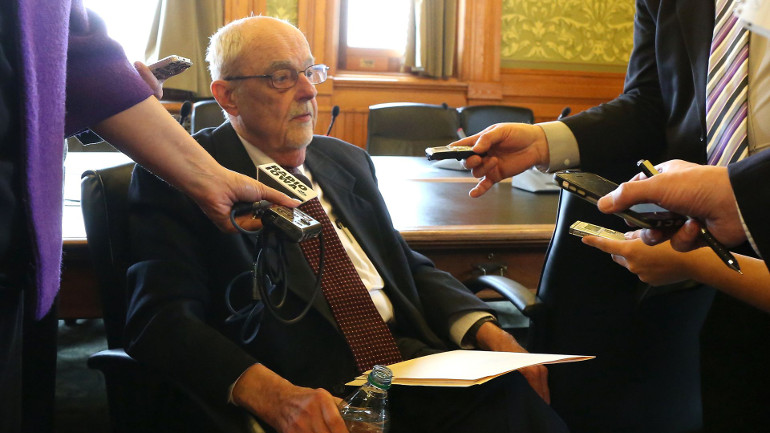 DES MOINES, Iowa — A key Senate committee has declined to endorse the reappointment of Iowa's human-services director, leaving it up to the full Senate to decide whether he should keep his job.
Charles Palmer, 76, drew praise and criticism Tuesday during a meeting of the Senate Human Resources Committee.
The Des Moines Register reports critics said Palmer failed to work with the Legislature, especially in deciding to close two mental institutions and a facility for delinquent juveniles. "I believe that Director Palmer has lost his way. I think he's let down the people of Iowa, the most vulnerable citizens of Iowa, and he's no longer effective," said Sen. Rich Taylor, a Mount Pleasant Democrat.
Taylor has helped lead opposition to the impending closure of mental institutions in his hometown and in Clarinda.
Several other members of the panel agreed that Palmer has done a poor job lately of working with legislators. But some also said the department, the largest in state government, needs stability as it makes big changes in Medicaid and other areas.
"At this point, I think he's worth keeping," said Sen. Mark Segebart, a Vail Republican. Segebart said that when he was a Crawford County supervisor, he was impressed with how Palmer offered personal assistance to Iowans who were having issues with the huge Department of Human Services.
The committee voted to forward the nomination without recommending it. Only Taylor voted no.
After the meeting, Committee Chairwoman Liz Mathis, D-Robins, said the panel had the choice of recommending confirmation or making no recommendation. She said she plans to vote in favor of Palmer, because she thinks it's important to have stability in the position as the state shifts to having private managed care companies run the $4 billion Medicaid program.
Mathis predicted the full Senate will confirm Palmer. "But there will be people opposed, and they will be vocal about it," she said.
Gov. Terry Branstad's spokesman, Jimmy Centers, said in an email afterward that Branstad appreciates Palmer, "who is a dedicated public servant and has spent the vast majority of his career working to serve Iowans. The governor is optimistic he will be confirmed by the Senate and looks forward to his continued work at the Iowa Department of Human Services."
Amy McCoy, a spokeswoman for the Department of Human Services, noted that Palmer met last week with the committee and addressed senators' concerns. "Director Palmer is dedicated to Iowans, and he meets regularly with members of the public and communities, and coordinates with legislators when their constituents have concerns," she wrote in an email to the Register. "He looks forward to working with lawmakers on modernizing the Medicaid program, expanding services through the Mental Health and Disability Redesign, and strengthening families through Iowa's new child welfare approach. These are critical initiatives, and Director Palmer has the experience and the continuing desire to work with legislators to help Iowans live safe, stable and healthy lives."