This is an archived article and the information in the article may be outdated. Please look at the time stamp on the story to see when it was last updated.
WEBSTER COUNTY, Iowa – An Indiana man wanted in connection with the 2017 death of a Fort Dodge woman has been extradited to Iowa to face a murder charge in the case.
Twenty-six-year-old Phillip Williams of Lafayette, Indiana is charged with first degree murder in the death of 26-year-old Jessica Gomez. Her burned body was discovered in a field August 12th near Clare.
Williams and another suspect in the case, Mackenzie Knigge, were arrested in Indiana in August of 2017. Knigge is also charged with first degree murder.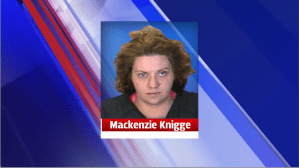 Online court records reveal Williams made a preliminary appearance in Webster County court last week. He is scheduled to be arraigned on July 23rd.
Knigge was brought back to Iowa in September of 2017. Her trial has been scheduled for August 7th but she has filed a motion for a continuance. A hearing on the motion is scheduled for Thursday.
Officials say Knigge was friends with Gomez, and both women were involved in relationships with Williams.