This is an archived article and the information in the article may be outdated. Please look at the time stamp on the story to see when it was last updated.
In one of Des Moines most memorable neighborhoods, "Someone saw him crossing Waterbury north bound through there," it was an unforgettable day.
"We don't see police ever, here," said Steve Miller of Woodland Avenue.
Here, scenes like manhunts are viewed only on Blu-Ray.
"They brought the canines in, I guess," said Miller's neighbor, CJ Stephens, "to track from my hot tub to my potting shed."
This, was as high as definition gets.
"It was like 'Oh my God! He's in our yard!'" said Doreen Blunck, of Waterbury Road.
The highlight of Miller's day is typically afternoon Frisbee, "There was a SWAT team across the street with their dogs and police cars down the street."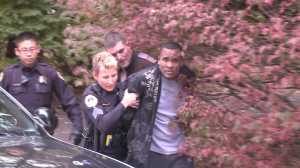 Just across Woodland, Stephens saw the suspect, Ryan Collier outside her window.
"Right here, right by the door."
She thought of calling police, but they were right outside.
"I opened my garage door, and the police officer came by and said 'Get back in your house and shut the door!'"
With dogs on his trail, the suspect headed south to Brunck's house.
"I was trying to keep our dog quiet, because she was barking up a storm."
Collier was outside, picking a car to hide underneath. He picked the Mercedes.
"I think he was under here," Blunck pointed out, "because then when he came out, all the police grabbed him and that pot got broken in half."
With terra cotta being the only casualty, neighbors praised police.
"I think they were very prepared," Stephens complimented.
"We have the petty burglaries and that kind of thing," Miller said, "but for the most part, this is very unusual."
A two hour manhunt after a shooting threat at a school is unusual for Des Moines but in Waterbury, almost unbelievable.