This is an archived article and the information in the article may be outdated. Please look at the time stamp on the story to see when it was last updated.
AMES, Iowa -- Hilton Magic struck again for the Cyclones on Monday night.
No. 19 Iowa State (14-4, 3-3) beat No. 1 Oklahoma (15-2, 4-2) in a highly-entertaining and spirited game by a score of 82-77. It's the Cyclones' first win against an AP No. 1 ranked team since 1957, when they beat Wilt Chamberlain and the Kansas Jayhawks.
The historic win was made possible by clutch plays from Monte Morris down the stretch. The point guard penetrated right and hit a step-back jumper from the elbow to give Iowa State a 77-75 lead with 19 seconds left.
After two unsuccessful attempts by Buddy Hield and Isaiah Cousins the next time down the court for Oklahoma, Morris drilled two free throws and Iowa State held on as fans stormed the court.
"Coach (Steve Prohm) drew up a great play," Morris said. "Georges (Niang) had it going and I had it going, it could have gone either way. He came out with a great play and I was just able to make the shot. I'll give credit to my teammates for having confidence in me to take that shot. I was happy I was able to come through for my teammates and that we got the win because we put two halves together tonight."
"If you have a good point guard, you just give him space or a flat ball screen to go make a play," Prohm said. "(Morris) has that little pull up, step-back shot that he's kind of perfected."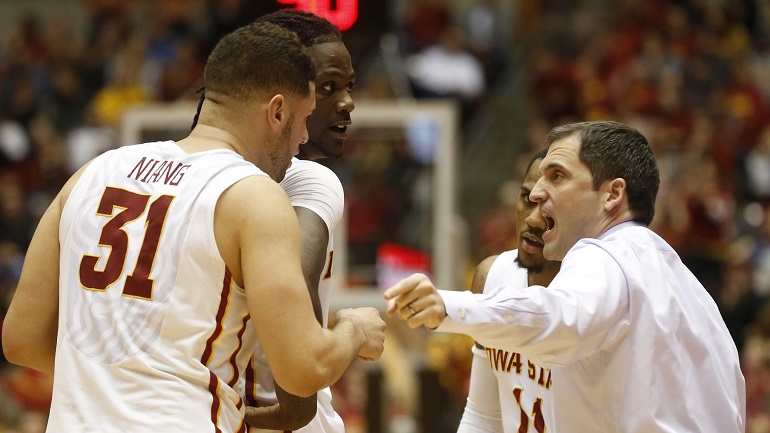 Prohm, who did something Fred Hoiberg, Johnny Orr, Tim Floyd and Larry Eustachy never did by beating a No. 1 team, received great effort from virtually his whole team in this one. The Cyclones were led by Morris' 20 points, seven rebounds, and three assists, Niang's 22 points, and Abdel Nader's 20 points.
"(This win) is up there," Niang said, when asked where this victory ranks in his career. "But we have bigger goals for this year. Right now, I'm just trying to take it one game at a time. We have plenty of games left in the Big 12 and have a lot more work to do."
The victory also marks the third time this season a school in the state of Iowa has posted a win against a No. 1 team, as Northern Iowa defeated North Carolina and Iowa beat Michigan State.
The matchup between the Cyclones and Sooners turned out to be a game of runs in the second half until the final moments.
After being down 59-57, Iowa State went on 10-0 run to build an eight-point lead with seven minutes left. It wouldn't last long, however, as Oklahoma stormed back on a 8-0 run to tie the game at 67 with four minutes remaining.
The Cyclones jumped out to their biggest lead of 10 points early in the second half, but Oklahoma wouldn't go away as Cousins and Hield pushed the Sooners back into the game. The dyanmic duo for the Sooners would finish with 63 points combined.
It was a very tight game in the first half, similar to the first matchup between these two teams, with Iowa State holding a 41-35 lead at the break. Niang put in 14 points after not scoring until the 9:55 mark, and Monte Morris stuffed the stat sheet with eight points, four rebounds and three assists in the first 20 minutes.
The Cyclones will hit the road for their next game against TCU on Saturday.
"This is just a natural progression," Prohm said. "You can't live in highs and lows, this league is too good. Look at Oklahoma, they have to go to Baylor now. We have to go on the road to TCU. TCU lost to Kansas by seven. You just have to stay in the moment."